A runbook, which is very similar to a playbook, is a step-by-step 'how to' procedure detailing how to complete a specific task or process.
Often used in an IT environment and part of Information Technology Infrastructure Library (ITIL) framework – a list of checklists and best practices that detail how to integrate IT operations with a company's business objectives and procedures – a runbook demonstrates to every team member, whether they are experienced or new to the role, how a particular task or process should be conducted.
For example, it could be how to implement a software update, apply a patch on a server, or even how to renew IT contracts.
Runbooks are usually compiled by more experienced team members, usually at the time of carrying out the procedure, to ensure that others are able to resolve common, everyday issues or implement regular procedures without any problems.
In addition, runbooks are very useful for new members of staff whereby they are able to learn about the company's procedures and subsequently apply that knowledge without having to escalate a situation.
It involves a set of detailed steps that are required to complete a task, as well as being used to troubleshoot a specific problem. The main purpose of a runbook is that common tasks can be carried out without the need for someone to oversee the operation.
They also help in reminding people who perhaps haven't had to deal with a particular issue for a while of the steps needed to resolve it.
Incident response teams also use runbooks, usually in addition to their own playbooks, to help emergency response teams to deal with a situation should an IT team member not be available, thereby speeding up the resolution of an incident.
A runbook will typically be used for:
System configuration and processes.
Security control and access.
System monitoring and alerts.
Maintenance and operational tasks.
Critical failure and incident recovery/response procedures.
There are 2 types of runbooks – specialized procedures and general procedures – depending on the task or procedure the runbook is being created for; the runbook itself can be a manual process that lays out each step, semi-automated where some tasks are automatically carried out while others are handled manually, and fully-automated.
General runbooks cover daily common IT tasks, such as dealing with Help Desk inquiries, how to perform a daily system backup, or documenting system performance. They help to ensure consistency and accuracy even though the task may be completed by different people.
Specialized runbooks cover more detailed, complex operations or scenarios that don't frequently occur, such as disaster recovery responses, unscheduled downtime due to a network failure, breaches of security, and failure of IT hardware.
They essentially create a manual on each and every task and/or process within the organization. Playbooks usually incorporate runbooks but are used to manage the bigger picture.
For example, should there be a security breach, a playbook will detail the recovery process, detailing which runbooks to use to get specific operations up and running again.
How to Create a Runbook?
Before you start creating a runbook, it is important to set out a plan that lists the important elements that need to be incorporated into the runbook.
For example, what is the process, why is the runbook being created, who will be the main contacts, how to report runbook activity, and is the runbook linked to other related operations.
For a runbook to be effective in enabling anyone to run a specific task or procedure, it needs to cover the 5 A's, which are:
Actionable – the steps detailed in the runbook must be sequential and written in a way that anyone can understand, no matter their level of experience or expertise.
Accessible – every member of the IT team, as well as other related teams, such as incident response teams, should know where to find any runbook and have permission to access them when required.
Accurate – they must include information that is up-to-date – runbooks should be reviewed and updated with any new information or changes to the steps on a regular basis – to make sure the procedure is accurate.
Authoritative – every IT process should have its own dedicated runbook; too many runbooks relating to one operational procedure will only cause confusion.
Adaptable – any runbook should be easy to change and update. New, updated runbooks must always succeed any previous runbooks.
Useful links:
5 Main Steps to Start
There are 5 main steps to creating a runbook:
Step 1 – plan out the runbook to include everyday processes, prioritizing those that are carried out more often or have a higher error rate than other tasks, and those that will have a greater impact on operations or the company's financial position. Runbook templates help to ensure that all the required information is included, such as who has permission to access the runbook, any related technical documents as well as how to report and/or escalate an issue.
Step 2 – collate all the relevant information required, such as operational procedures, accessibility and permissions, hardware and software documentation, as well as how, when and to whom runbook activity is reported.
Step 3 – using the information gathered, the runbook can be written. It can sometimes help to create a style guide, which includes grammar or phrases that are standardized to avoid the overuse of jargon and make the runbook easy for anyone to understand. Work with someone outside the IT team who has sufficient technical knowledge, which may help in identifying any information that is missing.
Step 4 – once the draft runbook has been written, it must be tested thoroughly to ensure nothing has been left out or the procedure it is not clear and easy to follow. Make sure different groups of people test the runbook, i.e. new team members, experienced IT people, as well as those outside the IT department, such as supervisors or managers and incident response teams.
Step 5 – collate any feedback and update the runbook accordingly. Runbooks should be kept in a centralized storage location, such as in a corporate cloud, and easily accessible by the person authorized to access the runbook. This makes the runbook easy to update and a notification system can be used to advise each person of any relevant changes.
It is a good idea to regularly review the runbook, particularly after any system updates have been carried out or the runbook has been used as part of an incident response situation, to make sure it is always accurate and up-to-date.
Why Do We Use Runbooks?
Runbooks are a great way to ensure that standard processes and procedures within an IT department, or any other department, are always carried out accurately and with consistency.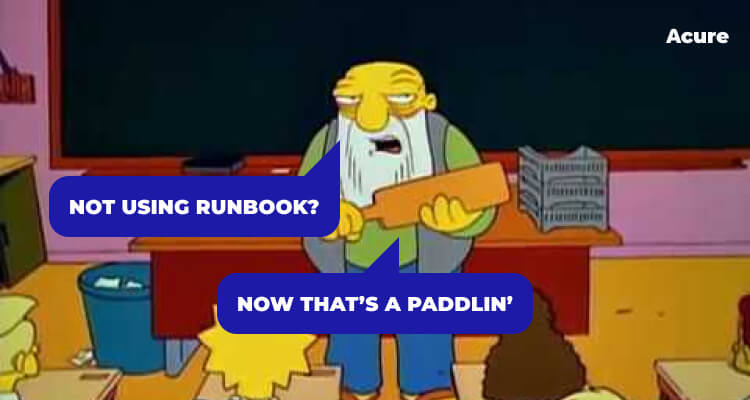 They ensure that everyone in a team, whether they are a new team member or are experienced, can quickly get up to speed and carry out any given task, quickly and accurately. One of the main benefits of a runbook is that it avoids the need for the repetition of certain tasks or procedures.
Once that task has its own runbook that sets out how to complete the operation, which can be updated with any new information and changes on a regular basis, it will ultimately save time and manpower. Runbooks can be used to set out detailed steps for simple or complex tasks and can be used by incident response teams, too.