Autonomous

IT Ops™
Observability and automation platform for hybrid IT environments and distributed teams. We help get your business stable at scale.
Fits Your Current IT Stack
Reduce incident detection, and resolution time at every step! No more alert storms, - get only important incidents and actionable insights! x3 cheaper than hiring an additional engineer!
90%
Faster Incident
Investigations
30%
IT Specialist`s
Time Saved
Acure for IT Ops, DevOps & SRE Teams





























SSH, cURL, Rest API, SNMP, SMTP, C# Script, Python
SLA, MTRS, MTBF, Downtime, CMDB
Why Choose Acure?
Acure is the perfect choice for your growing business!
We've built our system to significantly cut downtime for vital services and lighten the load on your IT teams.
Key features included in all plans:
Varied content packs for seamless monitoring and troubleshooting of your Kubernetes, Azure, and AWS environments! Consolidate diverse monitoring systems into a singular view and decrease the clutter! Amplify the pace of your incident investigations!
SLA reports & health analytics. Keep a finger on the pulse with detailed statistics, stay in the know about pressing issues, and document all SLA breaches with Acure's adaptive health models and robust quality policies! Maintain SLA compliance and monitor the trends of service quality!
Ideal for:
A distributed infrastructure that extends across various locations, making conventional monitoring and management methods challenging.
An intricate tech stack that requires a unified, comprehensive solution to handle its complexity efficiently.
Multiple teams, particularly those dispersed across different regions, necessitating seamless integration and coordination.
Explore how Acure streamlines the calculation of incident costs, manages service SLAs, and measures employee KPIs for companies!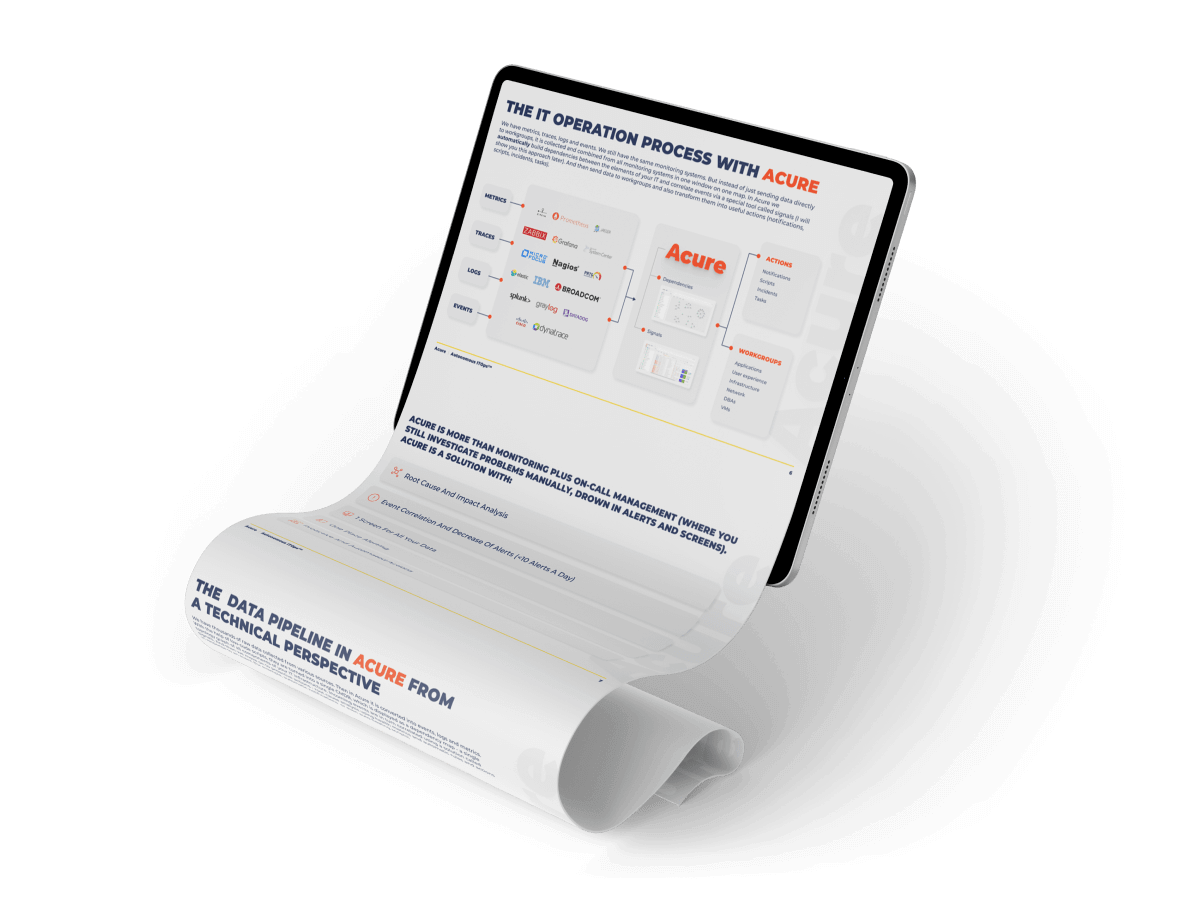 Acure Key Functionality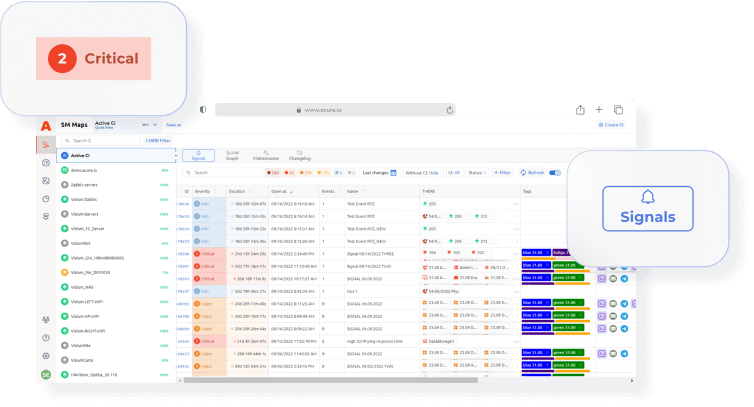 Event Correlation & Noise Reduction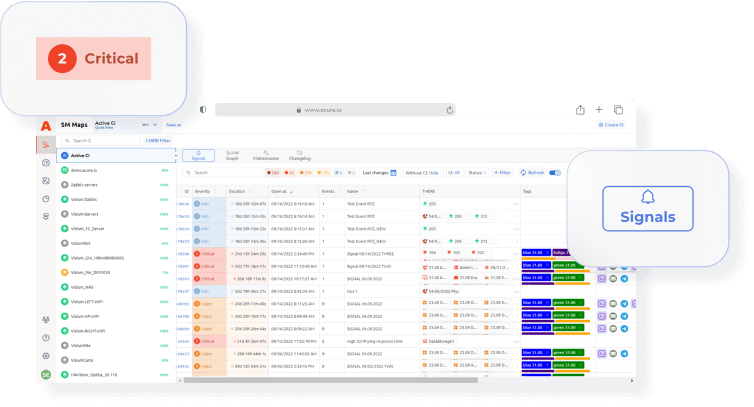 Acure effectively collects big data from dozens of resources:
No matter how many resources you use, Acure displays the state of the whole IT infrastructure and allows you to see the health of all its elements and connections between them in one screen. It makes the observability more effective.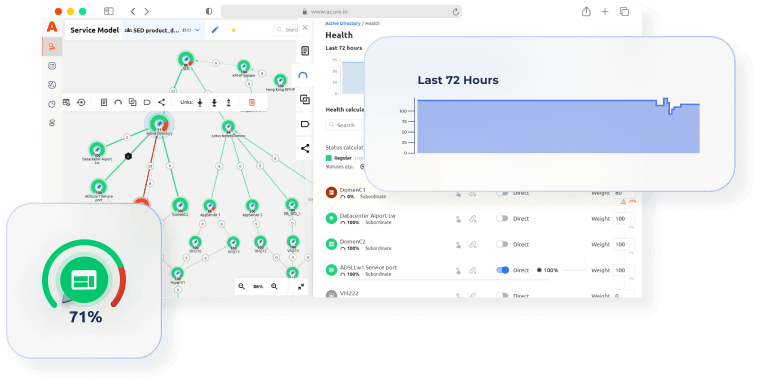 Root Cause & Impact Analysis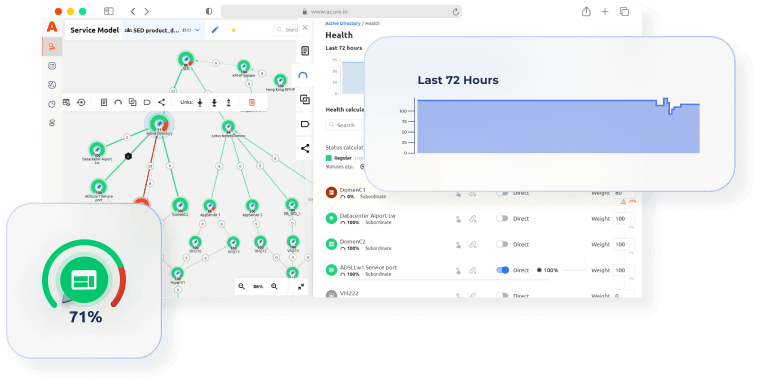 Root cause and impact analysis as a solution:
Impact analysis is needed to understand how much the problem affects the business and which problem takes priority.
Root cause analysis helps recognize what you should do first to solve the incident.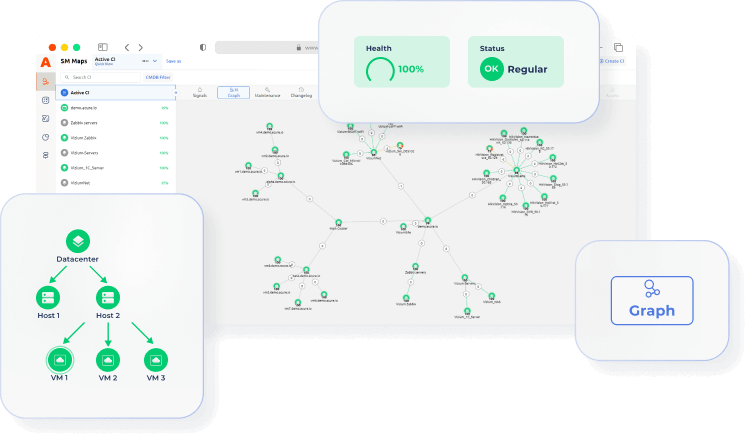 Unified CMDB & Automated Discovery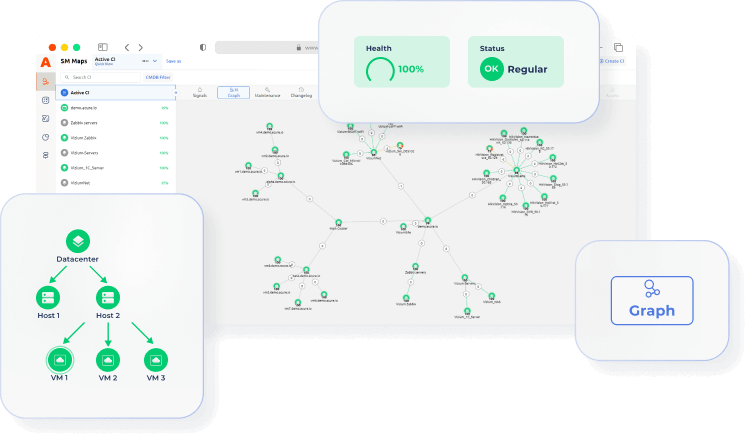 Automated discovery as a solution:
In Acure, you can automatically discover the base of integration items, find new elements, place them on automatic monitoring, and respond to failures during exploitation.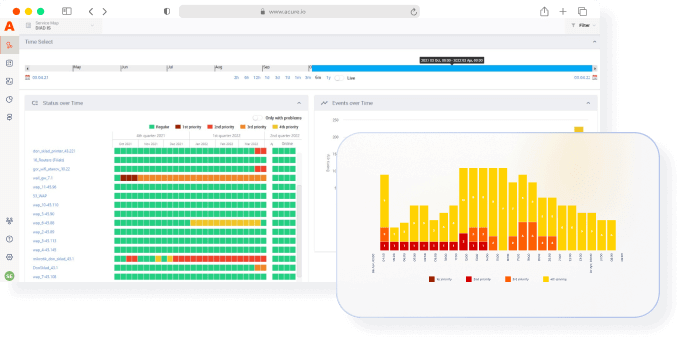 A Single System for Automated IT Operations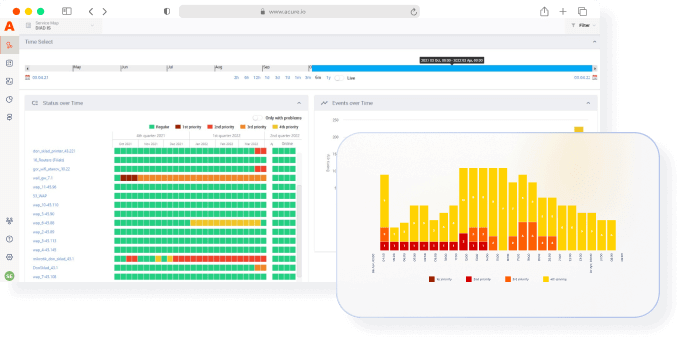 One-screen IT state visualization is essential:
A unified view, correlations between events, logs and messages, general storage and display settings — in Acure you can find everything for comfortable work with data on one screen.
It is an indispensable tool to control IT and promptly resolve all incidents. Not only to track but in preventing issues also.
What Acure Users Are Saying
Acure Solutions
A GLOBAL INSURANCE COMPANY
Goal: Reduce Agent Downtime and Support Costs
Solution: Full services observability and automatic synthetic monitoring
15%
reduction in support costs
ONE OF THE WORLD'S LARGEST DIGITAL BANKS
Goal: Provide a service with an intelligent assistant and reduce incident routing time to workgroups
Solution: Combined Prometheus, Zabbix, and the Knowledge Base data and configuration of intelligent automation rules
94%
less time to resolve incidents
A LARGE EUROPEAN INDUSTRIAL HOLDING
Goal: Increase the availability of services and the speed of response to IT Incidents
Solution: Resource Service Model and auto-assignment of incident
99.7%
service availability
AN INTERNATIONAL SUPPLY COMPANY
Goal: Fix a VDI problem that couldn't be located by network and VDI engineers
Solution: A service infrastructure model based on connected data from Zabbix and VMWare and root cause analysis
A RETAIL COMPANY WITH 1000'S OF SHOPS
Goal: Increase labor productivity of IT
Solution: Auto-discovery and dependency mapping of over 30 000 devices, auto-actions - from notifications to scripts.
60%
less time to find the root cause of the problem