For data analysts, the complexity of data has been a major source of stress because millions of redundant chunks of information are generated and stored daily, making detecting any anomalies challenging. However, with the introduction of AIOps, early anomaly identification proved more straightforward, allowing IT organizations' operations to continue without any hitches.
With AIOps, Ops teams can control their modern IT infrastructures' enormous complexity and volume of data, preventing outages, maintaining uptime, and achieving continuous service assurance.
With IT at the center of digital transformation efforts, AIOps enables enterprises to function faster than modern business demands while providing an exceptional user experience.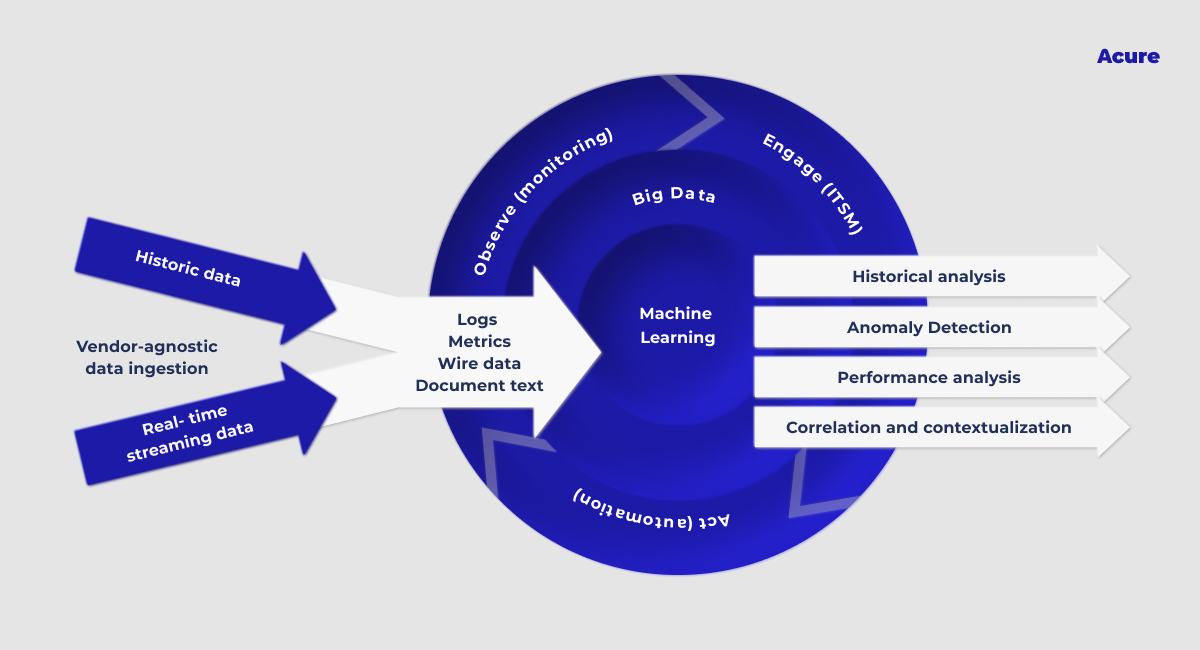 What Is an AIOps Platform?
AIOps platforms use artificial intelligence and machine learning algorithms to automate and improve IT operations. The goal of an AIOps platform is to streamline IT operations, reduce downtime, and proactively identify and resolve IT incidents before they impact end-users.
A typical AIOps platform integrates multiple data sources, such as log files, performance metrics, network traffic data, and other data sources, to build a comprehensive view of IT infrastructure and application performance. The platform then uses AI and machine learning algorithms to analyze this data and identify patterns, anomalies, and potential problems.
The platform can also automate IT operations tasks such as incident management, problem management, and change management. By automating these tasks, an AIOps platform can reduce the amount of manual work required by IT teams, improve incident response times, and reduce the risk of human error.
AIOps platforms are typically used by large enterprises that have complex IT infrastructures, but they are becoming more common as more organizations adopt digital technologies and seek to improve their IT operations.
Here Is How It Works:
To fully automate and monitor IT processes, AIOps uses five different types of algorithms. The algorithms are as follows:
1. Data Selection
AIOps initially filters away up to 99% of the data to find the problematic ones because enormous amounts of redundant data are collected and stored.
2. Pattern Discovery
For more sophisticated analytics, use correlation to organize the selected, significant data items and discover links between them.
The initial sources of the problems are uncovered in this step. RCA helps not only to detect a problem, but also shows its cause, that helps to prevent its occurrence in the future.
The relevant IT teams are brought together to discuss remedial actions when the underlying causes of the problems have been determined. Data on the incidents are also preserved to help with future problem diagnostics.
Automating response and correction as much as feasible improves the accuracy and speed of solutions.
Why AIOps is a Future? 🚀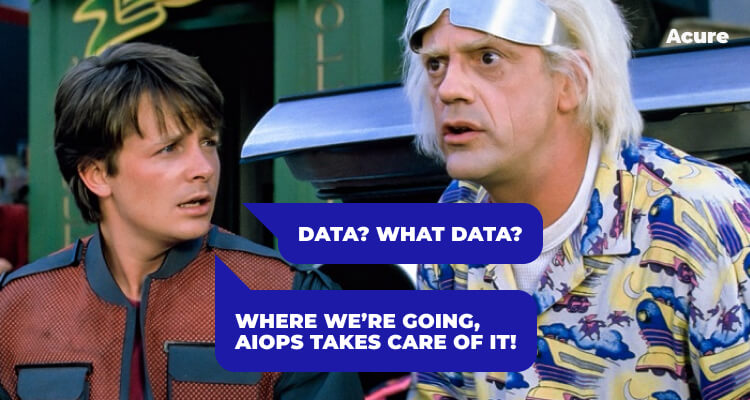 AIOps gathers and examines data to make sophisticated automated judgments. This data is used to forecast potential future events that could impact performance and availability before they happen. AIOps accelerate problem solving and deployment.
AIOps adoption is skyrocketing, which is a reflection of a pragmatic change that is transforming IT operations.
Businesses can benefit from the following by implementing AIOps:
Improved Collaboration
Within IT groups and between IT and other business divisions, AIOps enhance collaboration and workflow processes. Teams may immediately comprehend their responsibilities and requirements using customizable reports and dashboards.
Improved Business ROI IT Productivity
Businesses benefit from a reduction in the mean time to repair, outages prevented through issue prediction, and automation of repetitive manual processes—AIOps aid in maximizing your team's overall capacity while lowering costs and increasing output.
Digital Transformation Success
AIOps delivers commercial value for firms adopting a digital-centric strategy by reducing time and effort so your employees can concentrate on innovation instead. AIOps provides end-to-end visibility into the infrastructure and apps.
Improved Performance Monitoring and Service Delivery
AIOps anticipates resource usage and performance problems. By using probable cause analytics, it concentrates on the most likely cause of an issue—clustering and anomaly detection aid in locating the underlying problems that cause events.
By offering a technology foundation for managing the machine learning lifecycle through automation and scalability, Machine Learning Operations (MLOps) enables enterprises to ease many problems on the way to AI with ROI.
Data scientists and operations specialists can work together and communicate using MLOps, a set of techniques. Implementing Machine Learning and Deep Learning models in expansive production environments can be automated while also improving quality and streamlining the management process. Aligning models with both business demands and regulatory standards is simpler.
Top 20 AIOps Tools & Platforms (2022)
Now that we have discussed what AIOps is and how it benefits organizations in handling operations without encountering any troublesome flaws let's look at the list of the top AIOps tools you can use for your firm.
1. Acure
Acure is a topology-based AIOps Observability & Automation Platform that offers a single, interactive ecosystem for monitoring and resolving common cases encountered by modern IT environments. By identifying potential flaws and providing insights earlier, Acure helps to eliminate failures that could disrupt your businesses.
It offers a role-based paradigm and system entity ownership to construct a functional shared data space for information sharing and secure collaboration. It is built for many contexts, including multi-cloud, SaaS, on-premises, and hybrid IT.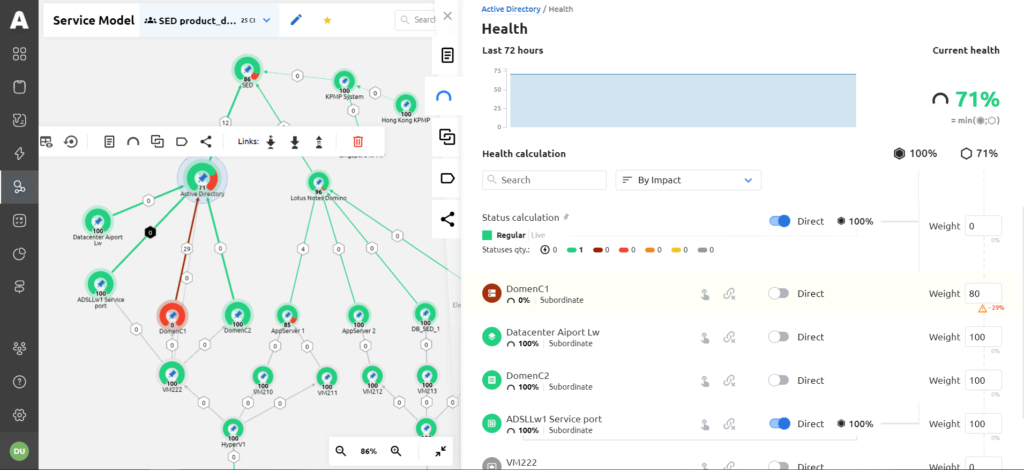 Key Features:
Integrating all control and AIOps monitoring systems into a solitary user interface.
High data security standards, such as Extended SSO authentication, SSL protocol, Complex password, user management policies, and many more, will prevent attackers from accessing the system.
A multirole paradigm makes it simple and rapid to configure user access to system features.
2. Zenoss
Zenoss enables IT, professionals, to obtain total visibility in today's most challenging, dynamic, and contemporary multi-cloud IT settings. The AIOps blend full-stack monitoring with machine learning analytics to ensure you get the most out of big data
Zenoss uses full-stack monitoring and machine learning to process all your data sources, including metrics, dependency data, events, logs, and streaming data, to give an unheard-of level of AIOps power. The platform provides the necessary context for machine learning algorithms to automatically identify the fundamental causes of issues by feeding them live topology data.
Key Features:
A unified, contextualized view is created using data from logs, events, metrics, model data, performance monitoring, and other sources.
Before problems result in service interruptions or degradation, predictive analytics and anomaly detection can find them.
By removing noise, mean time to resolution (MTTR) is significantly shortened using machine learning, visualization, retrospective analytics, and dashboards.
3. MicroFocus OpsBridge
OpsBridge by MicroFocus is an AIOps-powered automated event correlation, analysis, and performance monitoring platform intended for use in various contexts, including multi-cloud, SaaS, on-premises, and hybrid IT.
OpsBridge can use more than 200 technologies and tools to gather and combine data from monitoring (metrics, logs, and events). It discovers the topology to give monitoring capabilities and event correlation to identify the source of issues. Big Panda offers ML and AIOps-based big data analytics and centralizes the data in a single access point.
Key Features:
Automated discovery of dependencies across services, topologies, and applications.
Data consolidation and analysis across multiple vendors and domains (real-time and historical access to metric and event data).
Subject matter experts, IT and non-IT executives, and others can use role-based stakeholder dashboards.
4. Mosaic AIOps
Larsen & Toubro's mosaic AIOps Infotech is an AI-driven platform for business IT operations. It provides greater visibility, streamlined processes, automated detection, remediation, and improved asset monitoring.
Through the deployment of AI-led IT Operations, Mosaic AIOps allows Enterprise IT transformation. Fostering collaborative support practices across the operations teams entails improved asset monitoring, automated problem identification & remediation, and more innovative service desk actions.
Key Features:
Providing end-to-end visibility into the health and performance of assets throughout the hybrid IT landscape
A consistent support experience allows the integration of all IT Operations functions through a single platform.
To simplify, monitoring eliminates clutter and surfaces only the most essential actionable.
5. Watson AIOps
Watson AIOps integrates data from multiple sources to provide real-time insights and recommendations. It enables you to address complicated IT issues rapidly to minimize service disruptions and avoid outages.
Watson AIOps provides insights via a ChatOps experience, so warnings, recommendations, and actions are provided to the collaboration platforms and tools that IT teams now use. Applying AI throughout IT operations may predict problems and handle them more effectively. This IBM AIOps technology may detect anomalies, automate workflows, resolve incidents quickly, and manage events.
Key Features:
Can provide comprehensive insight and awareness as complex problems emerge, helping teams diagnose and handle mission-critical issues more quickly.
Employs traceable AI to assist teams and stakeholders in putting their trust in AI-powered recommendations and insights for mission-critical workloads.
Connects signals from structured and unstructured data sources to deliver a clear picture of abnormalities, with links to sources for faster inquiry and resolution.
6. BigPanda
BigPanda's SaaS platform for Event Correlation and Automation, driven by AIOps, assists enterprises in preventing and resolving IT disruptions. BigPanda automatically aggregates warnings from Datadog and any third-party tool and correlates them into context-rich incidents that help prevent outages and reduce incident management agony.
BigPanda integrates with all of Datadog's monitoring products, including Infrastructure, Log Management, and APM, out of the box. It automates incident response manual tasks and correlates data from monitoring, topology, and change tools into actionable insights.
Key Features:
Enhance the speed with which incidents and outages are resolved by automatically finding the most likely root cause of problems. BigPanda detects root cause modifications as well as infrastructure-related root causes.
Data from all observability, monitoring, change, and topology tools should be combined. BigPanda's Open Box Machine Learning will correlate the data into a small number of actionable insights, allowing incidents to be recognized in real-time before they grow into outages.
Integrating BigPanda with enterprise runbook automation technologies speeds up remediation.
7. AppDynamics
AppDynamics is a prominent APM solution for managing application performance and availability in cloud computing environments. It provides end-to-end visibility and real-time monitoring, allowing you to prioritize what's critical and take rapid decisions and actions.
AppDynamics employs AI/ML to provide total visibility into the whole business domain while reducing the overhead of IT operations responsible for running the business. It promotes a more proactive approach to performance management. AIOps systems connect performance insights to business outcomes by including all application environment data.
Key Features:
AIOps combines all data and builds causality/relationships, giving IT a high-level picture of the problem and allowing it to slice and dice the data as needed for a better understanding of the scenario.
AIOps filters and correlates important data into issues by absorbing data from any component of the IT environment.
AIOps platforms reduce MTTR and expenses associated with performance concerns by providing faster answers to outages and other problems.
8. Netreo
Netreo is full-stack monitoring software that enables customers to automate and monitor everything in the company from a single dashboard. Network administrators, system administrators, IT directors, and managers can use Netreo to gain total access to their IT ecosystems.
Network and system administrators can use Netreo to spend less time configuring their NMS platforms and more time assisting end-users, engineering, and satisfying service-level agreements (SLAs).
Key Features:
Thresholds are automatically baselined against past readings and exceptions to reduce false positives and alert noise.
To ensure there are no blind spots, compare all measurements to best-practice key performance indicators (KPIs).
Change the monitoring infrastructure to automatically adapt as you become aware of the system and environmental changes.
9. Moogsoft
Moogsoft is a well-known AIOps platform that provides services to help streamline IT operations. Moogsoft is renowned for its monitoring solutions, which enable teams to prioritize problems, assure uptime, and address issues rapidly, resulting in higher agility and lower risks.
By identifying issues before they become essential, determining who should respond, and comprehending trends to avoid reoccurring problems, Moogsoft offers an AIOps solution that enables continuous availability. Additionally, it integrates quickly across your tool stack and collects all of your observability data in one location for the duration of an incident's lifecycle.
Key Features:
To discover anomalies early in the lifecycle, use metrics and events as a data source.
Context is essential when an outage occurs. Advanced correlation technology from Moogsoft automatically identifies abnormalities and connects the dots between all warnings to help you find the root of the problem more quickly.
By automating the issue management procedure, Moogsoft offers continual improvement and frees up your time for other significant and pleasant duties.
10. Instana
Instana's AIOps automatically detect and map all applications, services, infrastructures, events, and interdependencies. Instana employs stream processing to collect and analyze all data in real-time, making incoming data immediately actionable so that issues may be resolved without delay.
Instana continually finds and maps every service, automatically profiles every process, ingests observability metrics, tracks every request, and maps every application dependency.
Key Features:
All application dependencies automatically are found, mapped, and kept track of.
Instant contextual knowledge of the caliber of each service will let applications run more efficiently.
Quickly fix problems by taking wise action; stop searching for difficulties and start looking for solutions.
11. Dynatrace
Dynatrace is a leading provider of cloud monitoring services. It is an American technology business that provides artificial intelligence-based solutions for monitoring and optimizing application performance, operations, infrastructure, and user experience.
Dynatrace continuously processes billions of dependencies in milliseconds, discovers errors instantly, and provides precise root cause analysis. There is no guesswork or time-consuming model training compared to machine learning methodologies. With the root cause identified, you may address issues before they negatively affect the customer experience and have more time to innovate.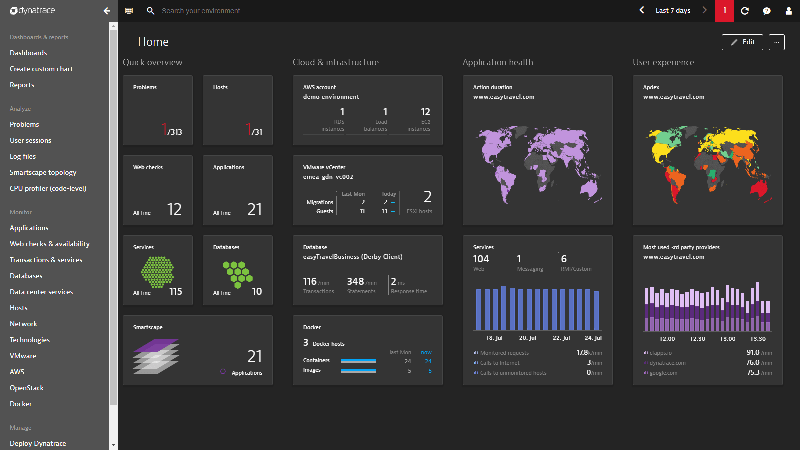 Key Features:
Dynatrace continually and instantly recognizes your changing environment.
Open APIs make it simple to import other data sources from your CI/CD workflow, cloud platforms, and service management tools for even more comprehensive AI processing.
Without any manual configuration, Davis recognizes entity relationships at startup.
12. Datadog
Datadog uses machine learning to automatically analyze the performance of infrastructure and applications so that engineering teams can be alerted to problems without manually setting up alerts for every potential failure mode.
The Datadog anomaly detection engine detects anomalous error rates in any application or service, high latency for every database or query, network difficulties with cloud providers, and more.
Key Features:
Whether dashboards and alerts have been set up for a specific application statistic or not, Datadog will nevertheless keep track of it and inform you as soon as a potential problem is found.
Discover anomalies and outliers that are impossible to find manually.
Datadog will forecast future metric growth and behavior, accounting for seasonality, and warn engineers of prospective capacity issues or measures that have started to trend strangely compared to past performance.
13. BMC
BMC provides a broad array of tools for mapping, logging, and managing IT infrastructure. It has formed alliances with most major networking and cloud players. For historical and current data, BMC's open data access strategy employs many data clusters.
BMC's AIOps solutions integrate machine learning and predictive capabilities into IT operations and DevOps systems for real-time, enterprise-wide observability, insights, and automated remediation.
Key Features:
Streamline enterprise-wide data sources into a single, actionable view. Utilize predictive analytics powered by artificial intelligence (AI) and machine learning (ML) to swiftly identify operational issues and decrease event noise by up to 90%.
Events and notifications are based on measurements and are triggered by built-in anomaly detection.
Advanced data analysis across infrastructure and applications allows you to cut MTTR by up to 75%.
14. Splunk
Splunk is a premier AIOps platform that provides total visibility of the cloud platform, end-to-end service management, powerful analytics, and predictive management.
Splunk AIOps brings together data from numerous sources and simplifies data analysis as IT operations management becomes more complicated. AI can automatically scan vast volumes of network and machine data to detect patterns, allowing it to identify and prevent current problems.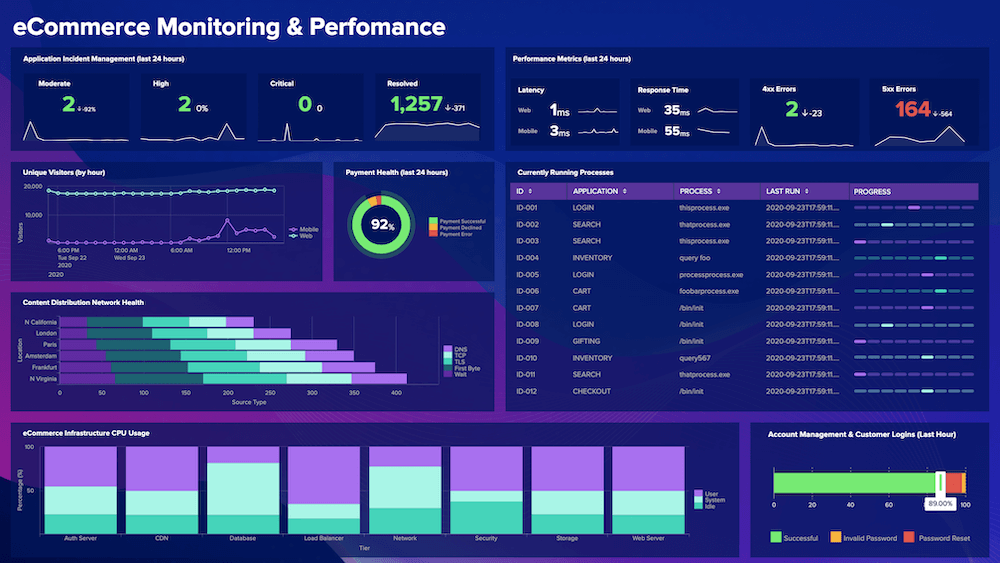 Key Features:
To prevent problems before they impact your customers, use predictive analytics powered by machine learning.
Employ event correlation to organize warnings into groups and swiftly determine their likely fundamental causes.
Automated incident response can increase efficiency and provide full-stack service visibility.
15. LogicMonitor
LogicMonitor's AIOps platform allows businesses to see what's coming before it happens and utilizes AI and machine learning to provide context, meaningful alerts, reveal patterns, and enable foresight and automation.
With over 2000 pre-configured connectors, it provides comprehensive visibility of on-premise servers, cloud, and network monitoring in a unified platform. It has AI-powered features and an automatic alert mechanism, making it easier to reduce disruptions while fostering innovation and agility with AIOps.
Key Features:
Learn about upcoming trends to proactively stop problems before they happen.
To boost MTTR and uncover problem sources more quickly, automatically find correlations between resources.
Only alerts for problems that develop outside a resource's operational range using robust anomaly detection.
16. OpsRamp
OpsRamp's artificial intelligence for IT operations (AIOps) solution was designed to detect, monitor, manage, and automate the world's complex hybrid IT settings.
It gives your team a holistic image of your hybrid infrastructure, allowing them to manage incidents, automate processes, and streamline IT operations.
Key Features:
Assist you in condensing and compressing raw alarms into relevant events.
Simplifies modern IT operations by providing richer and deeper insights across your tool stack.
With IT process automation, OpsRamp can help you avoid costly service disruptions and handle recurrent events at scale.
17. PagerDuty
PagerDuty is a cloud computing startup based in the United States that is well-known for its SaaS incident response platform. It helps businesses prevent downtime and detect issues and opportunities in real-time by utilizing machine learning and automation.
We connect data from all your tools to give insights into your IT infrastructure, with 650+ native integrations and the opportunity to develop and adapt workflows using the extensible PagerDuty APIs. All inbound events are automatically normalized into standard fields by our improved Events API v2.
Key Features:
Substantially reduces system noise and alert fatigue. PagerDuty automatically groups alerts and eliminates disruptions using a combination of data science approaches and machine learning to filter out up to 98% of noise.
Enhance situational awareness when determining the core cause of a problem, pertinent surface episodes, and recent developments.
You may eliminate tedious manual labor by employing nested rules and custom logic to process events in real-time.
18. StackState
StackState speeds up your IT operations by removing barriers between teams and tools. StackState can find, map, and monitor your complete IT ecosystem across teams and tools. StackState can help you uncover a problem's underlying cause in seconds and prevent issues from affecting your business.
StackState captures and correlates a wide range of information, offering a full-stack view of the operating landscape, with support for a wide range of products and integration into other monitoring or APM systems.
Key Features:
Synthesize segregated data from several sources, including Kubernetes, observability, and infrastructure monitoring tools, virtualization and cloud platforms, data lakes, applications, and incident management systems.
Get rid of alert storms and learn where to concentrate repair efforts immediately. Stay away from duplicate instances, phony alarms, and pointless warnings.
A component's health state is determined by StackState's health checks, based on the telemetry and log streams defined for that component.
19. ScienceLogic
ScienceLogic AIOps leverage big data and machine learning to produce predictive results that aid in speedier root-cause analysis (RCA) and shorter mean time to repair (MTTR).
Your ITOps may continuously improve by offering intelligent, actionable insights that promote a higher level of automation and cooperation, saving your organization time and resources.
Key Features:
Automatically update your incidents with diagnostics data to help you quickly find the root cause.
Eliminate recurring issues using collected diagnostic data to identify typical faults and automate forensic remediation and repair procedures.
Using data-driven dashboards and automated workflows, you can quickly assess the impact, hone in on the root cause, and fix events.
20. New Relic
New Relic is a leading provider of AIOps products. It focuses on applied intelligence, which tries to recognize, comprehend, focus, and resolve issues as quickly as possible by reducing noise, reducing pattern discrepancies, and gaining deeper insights.
Get a real-time and detailed look at your network, infrastructure, applications, end-user experience, machine learning models, and more. With robust whole stack analysis tools, teams can analyze all of their telemetries in one spot.
Key Features:
Automatic alerts based on golden signals like throughput, failures, and latency detect odd changes across all apps, services, and log data—no configuration required.
Reduce distracting and redundant alerts by up to 80% by automatically grouping alerts and events from any source.
Intuitive insights into the fundamental cause of every problem help you solve problems faster.
Conclusion
AIOps is a relatively new technology getting recognition within organizations for its propensity for early anomaly detection and solutions. In this post, we've compiled a list of the best AIOps tools that may assist you in immediately spotting abnormalities and providing guidance on how to avoid them.
Subscribe to learn more about AIOps!