Observability:
Innovation Insignt by Gartner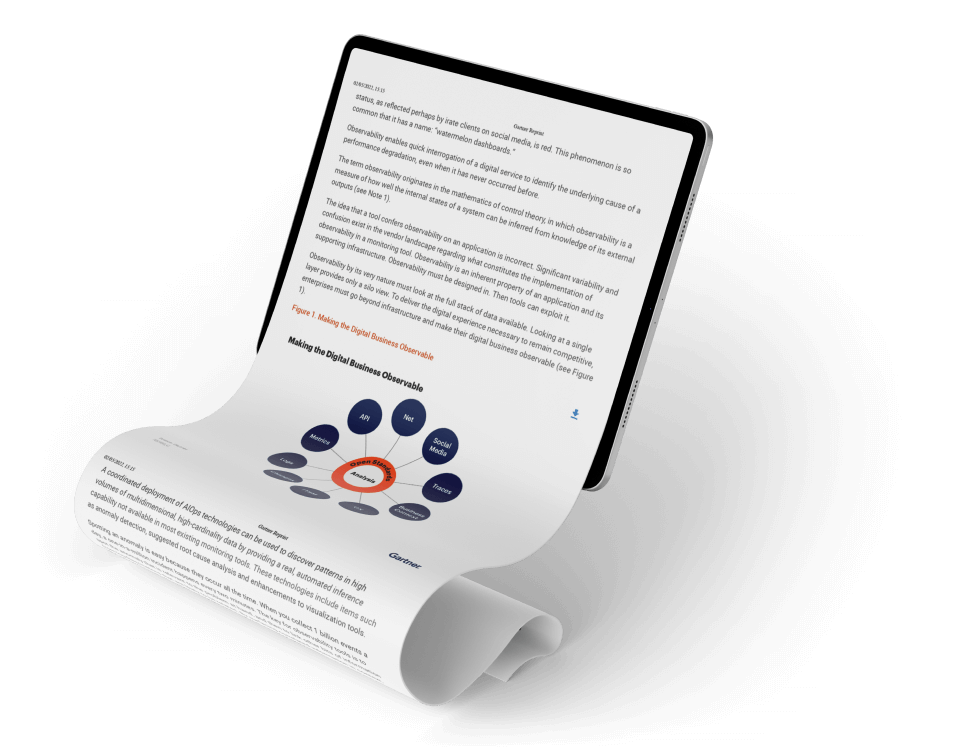 Observability is the evolution of monitoring into a process that offers insight into digital business applications, speeds innovation and enhances customer experience. I&O leaders should use observability to extend current monitoring capabilities, processes and culture to
deliver these benefits.
Overview
Key findings:
Many vendors are using the term "observability" to differentiate their products. However, little consensus exists on the definition of observability and the benefits it provides, leading to confusion among I&O leaders purchasing tools.
Distributed system architectures increase the need for observability because such architectures can fail due to interaction between multiple systems.
With DevOps, observability provides a common data model between software development and operations engineers to interpret system state and behavior.
The volume of data aggregated by tools can be immense, making it difficult for I&O leaders to understand the data without the aid of artificial intelligence for IT operations (AIOps)
Recommendations:
I&O leaders focused on infrastructure, operations and cloud management should:
Enable observability by selecting vendors and systems that utilize emerging open standards for collection, such as OpenTelemetry and OpenMetrics.
Investigate problems that cannot be framed by traditional monitoring by using observability to create time and site reliability engineer (SRE) error budgeting, adding flexibility to incident investigations.
Apply pragmatic observability to digital business, focusing on the business benefits it can deliver, by using AIOps to analyze the relationships detected across the datasets generated by multiple monitoring tools.
Increase application uptime by designing observability directly into the application and its supporting infrastructure.
Prognosis:
By 2024, 30% of enterprises implementing distributed system architectures will have adopted observability techniques to improve digital business service performance, up from less than 10% in 2020.